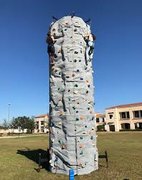 Mobil Rock Climbing Wall
$1,150.00
Dimensions:
Outlets:
Monitors:
Mobil Rock Climbing Wall

Are you ready for the adventure of your life time, and the most fun workout ever? Our Rock Climbing Wall is 24 ft high, and up to three climbers at the time. Either race your friends to the top or just take you time and enjoy climbing to the top and hit the siren to claim your victory. This wall can be used by children or adult, the weight range is 40 to 250 pounds. This rental includes the Rock Wall all safety equipment and a attendant to help all participants.This Rock Wall rental is perfect for corporate events, school or church events, and backyard parties.

Our Mobil Rock Climbing Wall is very safe, it has state of the art technology when it comes to safety. Our wall has a hydraulic auto-belay system, this system is the one responsible for the safety of all participants. This system retracts the rope as the climber goes up, and when ever needed, either at the top of the wall or if the at the middle of the wall if the climber gives up or falls the hydraulic auto-belay system hold the weight of the climber and brings him/her down to the ground.
24 ft tall climbing wall
3 Climbers at the time
Hidraulic Auto-Belay System
40 to 250 participant weight rage